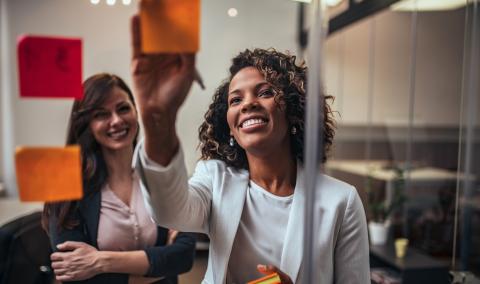 DALLAS — Southwestern Health Resources (SWHR), the clinically integrated network of UT Southwestern Medical Center and Texas Health Resources and a leader in population health, was recognized by The Dallas Morning News among the 2021 Dallas area top places to work, finishing No. 27 in the Top Large Companies category.
The Dallas Morning News conducts an annual search to identify and award 100 businesses with the best work environments in North Texas. The criteria include diversity, perks, ethics, family friendliness, work-life balance, fulfillment, meaningfulness and more.
Energage, LLC, The Dallas Morning News partner, surveyed SWHR employees on the company's work environment. In analyzing the results, SWHR received high ratings from its surveyed employees, earning their place as a top employer in the area.
"We're honored to receive this recognition especially in a year that has been so challenging for the healthcare industry," said Mary-Katherine Kutac, Chief Human Resources Officer for Southwestern Health Resources. "Now more than ever, our employees feel good about the contributions they make and are passionate about keeping our community healthy. In partnership with our healthcare providers, we're improving the way care is delivered."
Talent attraction and retention are crucial to the North Texas economy. SWHR aims to continue drawing in new employees while ensuring current staff members are satisfied, fulfilled and engaged. To succeed at improving quality and lowering the cost of healthcare, SWHR employees fill a variety of roles to support patients, providers, payors and employers. Being named among the area's top employers proves why top talent wants to work at SWHR.
"At the center of our mission is the physician-patient relationship and helping ensure that patients receive the right care, at the right time and in the right place. Whether you work in an administrative, professional or clinical capacity at SWHR, you know you are contributing to a better healthcare system and a healthier North Texas," said Kutac.
More information on The Dallas Morning News website.
About SWHR:
Southwestern Health Resources (SWHR), which blends the strengths of UT Southwestern Medical Center and Texas Health Resources, includes a clinically integrated network of 29 hospital locations and more than 5,500 physicians and other clinicians, is committed to being the national leader in population health. With more than 650 points of access to care, the network provides higher value and allows patients to access services across a full continuum of medical needs. SWHR serves people across 16 counties in North Texas, coordinating care for more than 730,000 patients, aligned with commercial healthcare plans and Medicare programs.
 
For more information, call 214-389-7272, Monday to Friday, 8 a.m. - 5 p.m., email swhrnews@southwesternhealth.org or visit southwesternhealth.org.