It's easy to forget about the blood pumping through your blood vessels, delivering nutrients and oxygen to your body — until you visit your doctor for your annual checkup. When that blood pressure monitor cuff is wrapped around your arm, sometimes the stress of your medical visit can elevate your reading.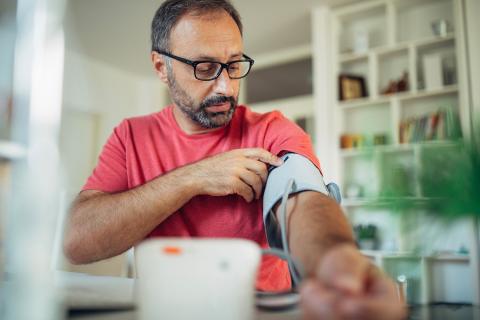 So if you have a higher-than-normal blood pressure reading in the doctor's office, how does your care provider know what your blood pressure is on most other days?
Measure your blood pressure prior to your doctor visit
Keeping a record of your blood pressure measurements prior to your medical visit could give your provider a more accurate view into your health. Measuring and recording your blood pressure at home twice a day for at least three days before your appointment is more likely to reflect your real numbers.
Southwestern Health Resources (SWHR) has created a guide to help you measure and track your blood pressure safely and easily at home, including:
A list of recommended blood pressure monitors 
Tips on how and when to check your blood pressure
Tips for getting an accurate reading
Document your blood pressure readings
Apps for your digital device are available to track your readings, and SWHR has created an easy-to-use, printable log sheet.
Yolanda Rodriguez, RN, BSN, SWHR Vice President, Care and Disease Management, said a daily log is a great tool for patients to show that they are actively engaged in managing their blood pressure.
"The log is beneficial to see a 'picture' illustrating how the patient is measuring their blood pressure consistently and accurately each day," she said. "It also promotes the use of a successful tool that truly focuses on the unique relationship that patient and providers have to improve health together."
How do you know if you have hypertension?
According to the American Heart Association, almost half of U.S. adults have high blood pressure, also known as hypertension. Because there are usually no obvious symptoms, many people don't know they have it.
When your blood pressure is consistently high, your heart has to pump harder. This can lead to serious problems, including heart attack and stroke. Fortunately, if you know your blood pressure is high, you can get treatment to help bring it down.
Check your readings regularly with a blood pressure monitor and you'll know where you stand. Tracking your blood pressure on a regular basis at home can be helpful for people who:
Have risk factors for high blood pressure
Have high blood pressure readings at the doctor's office
Want to know if a new blood pressure treatment is working
If you have concerns about your blood pressure readings prior to your next medical visit, call your provider right away.