DALLAS – Ever meet someone whose every word radiates positive energy and boundless curiosity? John Crawford, MD, is like that. His energy pulls you in, takes you along as he reflects on a rich and varied career in vascular and endocrine surgery.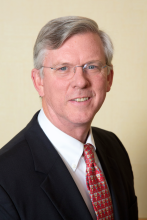 "Was luck involved?"
 "Some," he admits.
"Hard work?"
"Definitely." 
"Passion?" 
"I knew at an early age what I wanted to do. Time has proven me right."
Newly retired – only months into this new chapter of his life – Crawford admits it's hard to separate himself from his life's work, a career (or a calling) he speaks of in glowing terms. He may no longer be in the operating room, but the years he spent in surgical practice continue to add meaning to his life – in an awareness of what he's meant to his patients, but also for what they've meant to him.
"Every year, I receive holiday cards from patients," he admits. "I never forget these individuals because they haven't forgotten me. It's one of the rewards of a career in medicine."
Prodded to share a memory of a patient who still sends him mail, he's quiet for a moment, sifting through memories for the one he wants.
"I was finishing up a long afternoon. I think I'd seen 30 patients back-to-back. Suddenly, my nurse interrupts an appointment to tell me I'm urgently needed in labor and delivery. I race to the operating room and scrub in. When I enter the room, I see a young woman, asleep on the table and open for C-section. Bloody sponges litter the floor. She has clamps in her upper abdomen. The team is unable to stop the bleeding. Her blood pressure is low. People are yelling."
Here is the inherent drama in medicine, where life and death moments hang in the balance.
"In a situation like this, your training kicks in," he says. "Your first job is to assume command, calm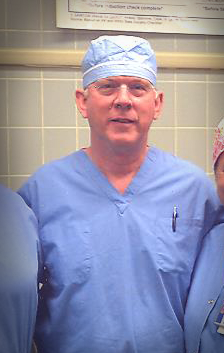 the situation and give orders to the team members. Splenic artery aneurysms are rare, but they can occur in pregnancy and are potentially fatal when they rupture. I located the bleeding artery and applied a clamp. The bleeding stopped. We gave the patient fluids and a transfusion and waited for her blood pressure to return. Once the baby had pinked up and the mother was stable, we removed the spleen and got the patient stitched up."
Both mother and baby left the hospital doing well.  
"The family sends me a card every holiday season." He's quiet for a moment. "It's one of my favorite cards."
His father was a heart surgeon, but Crawford never felt family pressure to enter medicine. "I have two brothers and a sister, none of whom expressed an interest in medicine," he says. "From an early age, I was fascinated by biology and chemistry. Blood and bone never bothered me. I grew up in Houston and Dad worked with Dr. Michael DeBakey in the early days of open-heart surgery. I was privileged growing up to be able to watch my dad in the operating room.  Later, when I began my own medical training, I had the opportunity to assist him."
A graduate of Harvard Medical School, he points out that he wasn't a student who thrived only in a science curriculum. "I was a biology major, but I studied history, fine arts – even accounting, because I thought it was important to understand the business side of medicine. However, there was never a question that my career would be spent treating surgical patients."
How did he end up in North Texas?
"Dr. Robb Rutledge recruited me to come to Fort Worth. I found the city welcoming to young surgeons. By this time, I'd completed my eight years of surgery training at Mass General and in Houston, gaining valuable experience with thyroid and parathyroid tumors along with vascular surgery.
He lingers on a memory from his younger years. "Some docs don't like the endocrine tumors. They're sneaky and surgeons consider them hard to find but I enjoyed it."
Seeking additional clinical experience, he took an opportunity to move overseas. "I ended up running a surgical service in Plymouth, England." It was a meaningful detour, but he eventually found his way to Fort Worth.
"Robb was a friend of my dad's and became my surgical mentor. I spent a couple of decades on emergency room call and building my practice. In the beginning, you show up and do the work. It's challenging, of course, and requires your presence at all hours of the day and night but there was a camaraderie among the docs. It's the relationships you develop with people that connect you to a place. It didn't take long to realize I'd built a life here."
He never stopped enjoying the work he'd chosen.
"My dad always said 'take good care of your patients. Take good care of their families. Take care of your referring doctors and don't sweat the small stuff. You'll make a good living and be proud of what you did for the community.'"
It was an unexpected example from his father that inspired him to cut back on his clinical hours.
"My dad had a terrible stroke and didn't get to enjoy retirement. It was a reminder of how short and precious our time is. I'd been performing 95% of my surgeries at Harris Methodist, now part of Texas Health Resources, but I wanted to shift gears. I'd always been interested in the business of medicine, so I stepped away from my clinical practice in 2016 and became an executive for North Texas Specialty Physicians. I loved the people I worked with, the interaction with talented, young people, plus the on-the-job training. I had an opportunity to dive into special projects with claims data and I enjoyed setting up work groups of medical colleagues, creating best practices around new procedures or new drugs."
Then he turned 70.
"It felt like a good time to turn the page. I have three grown children – one of whom practices medicine in Fort Worth – and I have four grandchildren who live nearby. I lost my wife to cancer in September 2020, and it was difficult, naturally. Friends and family got me through the worst of it. One group of friends invited me to play pickleball which got me outside. I needed that. Then last spring, I met a wonderful woman who'd suffered a similar loss as I had.  I found happiness again. I don't take a single day for granted."
Now that Crawford has retired, he has plans to travel, to spend time with family, to play more pickleball but there's this other thing he's been unable to shake – a desire to give back, to help people, a passion for medicine and an understanding of how good healthcare can transform a community.
"I was lucky I knew at a young age what I wanted to do. I still love medicine."
Recently, Texas Christian University (TCU), contacted him, asked if he'd be interested in being a physician advisor to medical students.
He's considering it.
Some people never retire from making a difference in people's lives.
About Southwestern Health Resources
Southwestern Health Resources (SWHR) is a patient-centered, clinically integrated network of 29 hospital locations and more than 5,500 physicians and clinicians caring for more than 730,000 individuals across 16 counties in North Texas. Blending the strengths of Texas Health Resources and the University of Texas Southwestern Medical Center, SWHR offers an unmatched ability to connect individuals with a full spectrum of nationally preeminent, clinical care. SWHR is the parent of Care N' Care Insurance Co., a leading regional Medicare Advantage health plan providing care to nearly 14,000 members.  
At SWHR, we believe healthcare can be more integrated, accessible and affordable for all. Our purpose: to build a better way to care, together. Our promise: to simplify and empower care, for good.