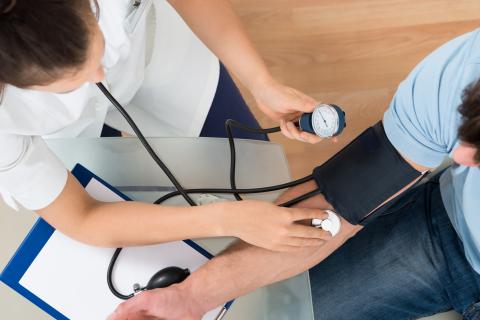 Dallas — Southwestern Health Resources (SWHR), the clinically integrated network of UT Southwestern Medical Center and Texas Health Resources, and a leader in population health, has earned national recognition for helping patients control blood pressure and has been honored for excellence in diabetes care.
For the second year in a row, SWHR earned Gold status from the American Heart Association (AHA) and American Medical Association (AMA), for meeting specific clinical measures and showing 70 percent or more of adult patients in the network with high blood pressure have their blood pressure controlled.
Hypertension, also known as high blood pressure, is a leading risk factor for heart attacks, strokes and preventable death in the United States. According to the Centers for Disease Control and Prevention, 47 percent of adults in the United States or 116 million people, have high blood pressure, yet only 24 percent of them have the condition under control. Patients served by SWHR's network across North Texas significantly exceed this mark.
"Our performance in this program demonstrates our commitment to helping patients understand and manage their health risks and to do so in partnership with their physicians," said Jason Fish, MD, Chief Medical Officer and Senior Vice President for SWHR. "Keeping patients healthy now and in the future is central to our mission as a population health organization."
The recognition is part of the 2021 Target: BP™ program, a national collaboration between the AHA and the AMA aimed at reducing the number of Americans who suffer from heart attacks and strokes each year by urging physician practices, health systems and patients to prioritize blood pressure control and evidence-based quality improvement.
SWHR also earned a certificate of recognition for the AHA's Target: Type 2 Diabetes program for its commitment to excellence and high-quality diabetes care. The program is the newest quality improvement and recognition opportunity for organizations providing outpatient care related to type 2 diabetes and cardiovascular risk factors. An initiative of the AHA and Know Diabetes by Heart™, Target: Type 2 Diabetes brings together resources, education materials, regional AHA staff support and recognition opportunities to target improvement and acknowledge organizations for their impactful work.
"To improve clinical outcomes, we invest in proactive and targeted preventive care that creates greater value for patients and providers," Andy Ziskind, MD, senior executive officer for SWHR, said. "Providing physicians with data and predictive analytics ensures that we can address the needs of the most high-risk and rising-risk populations — before costly acute care episodes occur."
 
About Southwestern Health Resources
Southwestern Health Resources (SWHR), which blends the strengths of UT Southwestern Medical Center and Texas Health Resources, includes a clinically integrated network of 29 hospital locations and more than 5,500 physicians and other clinicians and is committed to being the national leader in population health. With more than 650 points of access to care, the network provides higher value and allows patients to access services across a full continuum of medical needs. SWHR serves people across 16 counties in North Texas, coordinating care for more than 730,000 patients, aligned with commercial healthcare plans and Medicare programs. For more information, visit southwesternhealth.org.